Children Kung Fu Class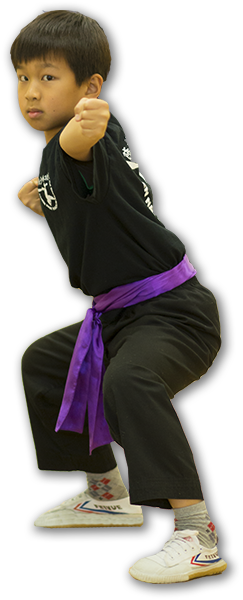 Martial Arts for Kids (ages 5-12)
Our Children Kung Fu Class is for kids 5 to 12 years old. In this class, children learn not only martial arts, but also respect, discipline, self-control and mindfulness. We strive to improve a child's self-confidence and self-esteem through traditional Shaolin Kung Fu training, sparring, and self-defense skills. After children acquire basic skills in Shaolin Kung Fu forms, they will receive more advanced training in traditional Shaolin Kung Fu weapons such as Shaolin staff, Shaolin broad sword, Shaolin straight sword, Nunchakus and more.
Kids Kung Fu class starts with a series of warm-ups and minor workouts such as kicks, punches, and strikes. Stretching exercises are practiced in every class to progressively improve body flexibility and ensure safety of training. Stretching each part of the body is a critical ingredient for good Kung Fu practice. The main focus of each class will be on traditional Shaolin forms or weapons depending on level of each student. Each form or weapon is practiced for months until students acquires proficiency. A reasonable amount of mastery in each form or weapon is required to prepare the student for the next level as a student advances through our belt ranking system.
From time to time students also get to work on sparring and self-defense training that becomes the foundation for more advanced martial arts training. This fun-filled Kung Fu class is designed to help children grow in a positive, well-disciplined, yet challenging way.
Schedule a Free Trial Class Today! Sign Up Here